Perched on top of Elk Mountain, this mountain modern home offers breathtaking views of Asheville's skyline.
You know it's going to be an amazing project when the homeowners come to you with not only a vision but a name. Enter "Hollywood Hills of Western NC." Complimenting the natural views, the contemporary architecture opens over downtown Asheville in the distance, eliciting a wooded version of the LA neighborhood.
The homeowners wanted the home to feel connected to the outdoors with large amounts of daylight, and a focus on biophilic design. Over a backdrop of clean lines and a minimalistic approach, we incorporated many natural elements. This included wooden finishes, like the built-in beds and nightstands, that appear to be floating in the bedrooms, the cedar closet, and natural finishes on the case goods. That organic theme tied everything together to create a home that is minimalistic and modern, but still warm and inviting.
As Asheville's premier luxury green design firm, we're heavily focused on health, the healing power of beautiful spaces, and designing homes without using toxic materials. This was one of the main reasons the homeowners chose to work with us. They're both pediatricians, and wanted to "minimize the toxins and chemicals in the building process, in the paint, and in the furniture." This home was built and furnished using low VOC and organic materials. It is also Aging in Place Certified.
"It feels phenomenal when the client moves into their home and everything has been finalized," said Patrick Backes, a Living Stone Design + Build superintendent. "They are very happy when they can actually visualize the space that they're going to be living in. We strive towards exceeding our client's expectations and creating happier healthier lives for them."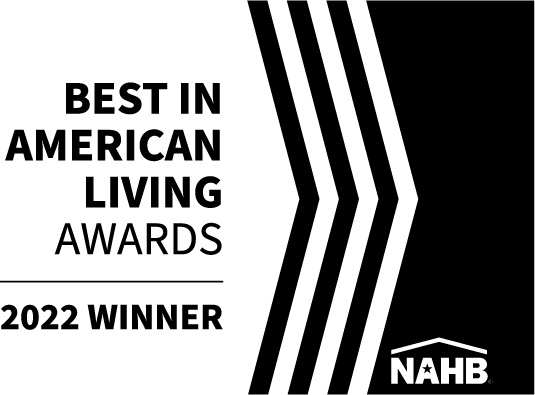 Elk Mountain Zen won the 2022 Best in American Living Award for the custom owner's suite. From the judges:
"The accordion walls open up the back of the home to great outdoor spaces and make key living areas live larger. A see-through fireplace also helps connect the owners' bedroom with the great room. The wet room brings the outdoors in with ample windows, while clever details—such as different tiles for different functions—add to its visual impact."
Get in Touch for a Consultation
We'd love to talk to you about your design project.