Ever wonder what your future employer is thinking when they hire or fire you?
Your personality can be one of your biggest attributes in the work place…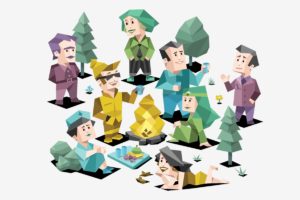 Your personality can truly speak volumes in todays work environments.  Ever notice that the energy in a work environment can be changed by one person?  In every environment, involving work or family life, there are conflicting personalities. In a business of building and designing homes for clients and their families, positive social interaction is crucial.  The communication process between human being must be mastered in order to work efficiently.  Personality tests become a helping tool in learning the social introversion and extroversion of each person. These tests answer questions that are not prevalent during an interview.
Sean Sullivan, President of Living Stone Design + Build and husband of Laura Sullivan, Principal of ID.ology Interiors & Design, had  the following to say about Hiring and Firing around you.
Hiring And Firing
The most oft-repeated lesson the builders we spoke with said they had learned concerned staffing. Surround yourself with the best people, take care of them, and create a positive culture, says Sean Sullivan, president of Living Stone Design + Build, in Black Mountain, N.C.
How do you do that? Hiring experienced candidates and finding candidates via personal references certainly helps, but to guarantee a good fit, there must be more to the process. So Sullivan has prospects take personality tests, among them Dr. Gary Smalley's 5-Minute Personality Test, which categorizes a person's strengths, weaknesses, and natural inclinations into four animal types: lion, otter, golden retriever, and beaver.
"Based on the results, we can decide if the person is right for that job or would be a better fit in a different position. We've been using that method for about five years," says Sullivan, adding that his wife, Laura Kirkpatrick Sullivan, owner of ID.ology Interiors & Design, in Asheville, N.C., also uses personality tests in her hiring process.
Firing employees who don't work out is just as important as finding the right people. "I think a lot of new business owners have the same failing," says J. Sven Gustafson, a fourth-generation builder and 20-year home building veteran who is president and CEO of Stonewood, in Wayzata, Minn. "Maybe you have an employee who's good at building a house but not good at paperwork. So you let him skate by because he's good at a few things but not good on every point. I was really slow to let guys go who had been with us a long time. They had been with my dad 10 or 20 years but couldn't manage a budget or were unwilling to consistently do change orders. But they could build a heck of a house. I've learned that the reason we're successful today is our team. We have guys who are well-rounded and able to manage all aspects of the project."
Reflecting on 14 years of home building and on relationships with employees as well as with subcontractors, suppliers, and clients, Scott Frankel, co-president and principal at Frankel Building Group, in Houston, learned that he had to stop thinking he could always work or manage his way to a better outcome. "I needed to learn to give up on clients who couldn't be good clients and on employees who couldn't grow," he says. " I needed to learn to stop faster, and if there's a client or an employee who is misbehaving, I'm not going to be able to change that behavior."
Caleb Johnson, principal architect at Caleb Johnson Studio, in Portland, Maine, says it was just four or five years ago that he learned to more quickly get free of negative people, no matter how talented or hard-working they were. "It's just too hard a job for a small business to help people grow into positive problem-solvers from people who are always looking for a reason to say no or to complain," he says.
Photo and article by: Custom Builder Online
To view the rest of this article follow this link: custombuilderonline.com/time-machine-lessons