By Annette K. Sullivan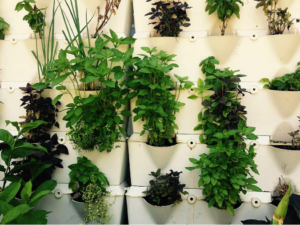 City living has its rewards: it's easy to get to your job, the grocery store, and just about everywhere else. But living in a city or suburb means you have less open space to indulge your green thumb … unless you think outside the box. Design and curate your Asheville home to bring out nature in an eco-creative, yet practical way.
Garden Walls
If you like to cook with fresh herbs, how about an herb garden wall in the kitchen! Hang shelving above the sink or where the sun will directly hit an opposite wall. Herbs, lettuce, and strawberries don't need as much soil as other plants, so they're excellent for vertical gardens. Grow your own cilantro, rosemary, oregano, and more. Place each plant in a recycled container, attach them to wooden siding and then place it on the wall. Plants and flowers for indoor walls include petunias, fuchsia, impatiens, and salvia. North Carolina's native plants add color and fragrance to your home. Dress up the décor with Carolina lupine, maidenhair ferns, eastern blue star blooms, and crested iris.
Impress house guests with a moss wall in the bathroom. You can even make a moss bathmat for stepping onto after a shower. The carpet-like vegetation is soft on your bare feet.
Indoor Gardens
Grass, vegetables, flowers … we tend to think of the greens for outdoors, but they grow and spread inside, too. Lay grass sod on wooden tables for an indoor picnic. Garden tables grow fruits, herbs, and veggies in a section between the seating areas of a dining table. Herb garden lamps light up the vegetation growing inside of them.
Hydroponic gardens are either "solution" (liquid) culture or "medium" (aggregate) culture.
A solution system allows your plants to grow in a fertilized liquid. This is best for herbs, spinach radishes, lettuce and other plants with shallow roots.
Medium systems use gravel, sand, or a specially developed clay-like pebble product called Hydroton. Because a small amount of clay is actually used to make Hydroton, it's eco-friendly and re-usable. Hydroton and its generic equivalents are good for heavy-rooted vegetables such as chicory, beets, beans, cucumbers, and tomatoes.
Trees in the House!
Yes, you read that correctly. Looking to add a room or two to your home? Consider cutting a large hole in the floor for one or more of North Carolina's trees to grow through. Imagine having a pine or maple tree in your family room! How about a grand magnolia? You'll be the first on your block to go natural in a unique way.
If trees inside the house don't seem practical, build an outdoor structure or deck with a hole big enough for Mother Nature to spread her green wings. Hang a couple of elegant hanging chairs so you can sit outside and breathe in fresh, fragrant air surrounded by leaves, branches, and twigs. Treehouses are not just for children, they can be your home away from home.
Outdoor Rain Garden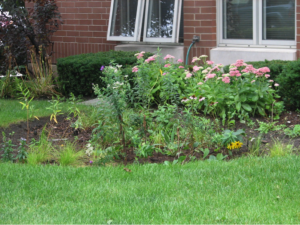 Rain is beautiful and necessary for nature to thrive. But when rains are heavy, the beautiful outdoors becomes a muddy mess. Rain gardens are rounded, bowl-shaped areas of the yard that drink excess runoff water the lawn cannot absorb. At the lowest point of the yard where water develops pools, dig a hole from five to ten feet long and eight inches deep. Place decorative rocks or a clay border around the rim. Then add some well-draining soil and compost. Plant swamp hibiscus, winter holly, black-eyed Susan, goldenrod, cardinal flower, and coreopsis.
Living an organic and eco-friendly life is more than buying marketed products or using the latest "green" detergent. There's no "one size fits all" idea when it comes to infusing natural decor into your Asheville home. Becoming one with nature is a personal journey that promotes life, well-being, and long-term sustainability.
Annette K. Sullivan is a real estate writer and home stager who spends her free time in her garden that she has filled with native blooming plants. She is trying to break her Labrador retriever of a bad bee-eating habit.