by Rebecca Becker
It's time to choose the countertops for your new home or renovation, but the choices are overwhelming! An experienced Interior Designer is a wonderful resource to help you ask the right questions, allowing you to make a wise, beautiful, and cost-effective choice that will last a lifetime.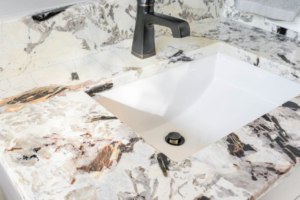 GRANITE
Granite is a top choice for overall strength, durability and beauty. It is one of the Earth's oldest and hardest stones. The durability makes it a formidable foe, withstanding chipping, scratching and heat up to 1200 degrees F. It can be a complement to any cabinet choice and is naturally pleasing to the eye with a myriad of patterns and colors.
QUARTZITE
Quartzite is a naturally occurring metamorphic rock. Harder than granite, Quartzite has the look of marble and is the best of both worlds. If you are hoping for an earthy, organic, natural stone look, it is an excellent choice. Be sure and seal your Quartzite countertops prior to installation!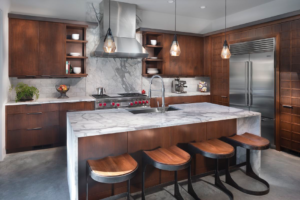 MARBLE
Marble is limestone that has crystallized naturally over time and has a great variety of color. History shows marble's value for its iconic beauty, strength and resistance to fire and erosion. Sealing marble before use is a must! Because it is composed of calcium carbonate, acidic substances will eat away at the surface. It's best used as an accent and in low traffic areas.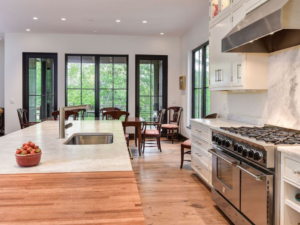 QUARTZ
Quartz is usually a combination of ground natural stone and epoxy, commonly called the "engineer stone." Choosing Quartz will provide you with a durable, glossy, non-porous, and bacteria resistant countertop. Because it's manufactured, there is an array of deep and rich colors for your selection. Although a cutting board is still recommended, Quartz will stand up well against acidic kitchen stains. Check with your designer to help you find the right manufacturers that offer a high-quality Quartz countertop.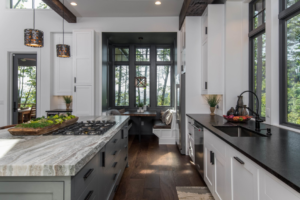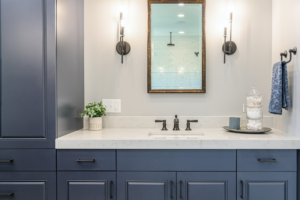 The above choices are only a few options in the world of countertops. Other varieties include soapstone, limestone, travertine and onyx. Of course, having a designer help guide you through these decisions is ideal, but hopefully this can serve as a guide to get you on the right track!